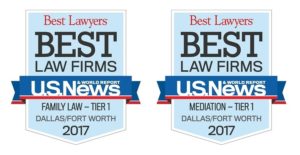 Verner Brumley Mueller Parker PC earned two different rankings in the 2017 "Best Law Firms" list published by U.S. News & World Report and Best Lawyers®. The firm has been recognized in this prestigious national ranking for eight consecutive years. This year, the firm was recognized with two Tier 1 Metropolitan rankings in Family Law and Mediation for the Dallas-Fort Worth Metroplex.
"Our reputation is everything, and every time we're included on this list it proves that we continue to earn the respect of our peers and the community," says the head of the Dallas office and Managing Partner Jim Mueller.
Firms named on the "Best Law Firms" list are recognized for professional excellence through a rigorous annual assessment of client and lawyer evaluations as well as peer reviews from leading attorneys. Evaluations are based on legal knowledge, responsiveness, cost-effectiveness, civility, and integrity. Achieving a tiered ranking signal a unique combination of quality law practice and breadth of legal experience. To be considered for a ranking on the list, at least one attorney from the firm must already be listed on the corresponding Best Lawyers in America® list. Seven of the firm's attorneys were included in the 2017 list for family law. Jimmy Verner, Jr., Janet Brumley, Paul Brumley, Jim Mueller, George Parker, Ashley McDowell, and Greg Beane were all individually selected for inclusion.
"We work hard for our clients," says George Parker, head of the McKinney office. "It's not about getting awards. But when we get them, it confirms we've served our clients well, and that's very gratifying."