Dallas Prenuptial & Postnuptial Agreement Attorney
Working with You to Draft Prenuptial & Postnuptial Agreements in Dallas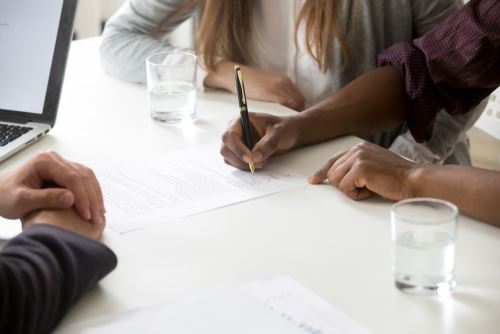 ​So, you've decided to tie the knot - congratulations! To get your new union off on the right foot, you may want to consider entering into a prenuptial agreement with your soon-to-be spouse.
A pre or postnuptial agreement can help you establish certain protocols for your marriage, ensuring you have an equitable partnership. Our Dallas prenuptial agreement lawyers can help you draft a comprehensive prenup that suits your needs.We have helped countless couples in Dallas, TX draft and secure prenuptial and postnuptial agreements. These documents are important for helping you understand your rights and for securing your marriage. It can help to strengthen, instead of the divide you and your significant other. If you are interested in learning more about prenuptial and postnuptial agreements, contact our team of prenuptial and postnuptial attorneys in Dallas, TX today.
To schedule a consultation with our team, contact us online or via phone at (214) 225-6766.
What Is a Prenuptial Agreement? Should I Get One?
Prenuptial agreements are often extremely useful tools, particularly in high-asset marriages. These agreements allow couples to set up their marriage on their terms rather than defer to rigid laws.
There are plenty of reasons you may want a prenuptial agreement, such as:
Addressing what will happen to your assets if you should pass away or divorce;
Deciding and memorializing, prior to marriage, how finances will be handled and by whom;
Your intended spouse has significant debt or risk of debt from which you wish to be protected;
Deciding the financial terms by which you and your intended spouse will be divorced, if such an eventuality occurs, while you still love and trust each other.
Generally speaking, the vast majority of individuals benefit from engaging in a prenup. It can help you build a stronger bond with your partner and safeguard your property, helping you have a happier, healthier marriage.
It is possible to draft, document, and file a prenuptial agreement without legal aid, but it can open the door to disaster. If all issues are not explicitly documented and accounted for, the agreement may not be binding. Our team of attorneys can work with you to understand your and your fiance's unique circumstances, needs, and goals.
How Do Postnuptial Agreements Work?
Whether you are a newlywed or celebrating your 25th anniversary together, it might be time to create a postnuptial agreement. Spouses write postnuptial agreements after marriage.
In a sense, they are very similar to prenuptial agreements. The idea behind a postnuptial agreement is to settle financial and marital issues that are present. It also dictates how a couple's assets will be divided if divorce or separation occurs.
A couple of common reasons people choose postnuptial agreements are:
They have children from a previous marriage and want to ensure they receive some assets;
Someone has been unfaithful, and one partner wants to persuade the other to work on the marriage;
They have decided to stop working to spend time caring for their children and want to make sure they will be financially stable.
Benefits of A Prenuptial Agreement
Drafting and signing a prenuptial agreement can really help to alleviate stress and offer you ease, both during your marriage and in the situation that you and your partner decided to get a divorce.
Some of the benefits that come with prenuptial agreements include the following:
Promotes Honest Communication: A prenuptial agreement can help to promote an honest pre-marriage conversation regarding finances and assets and liabilities.
Secures Fair Division of Assets: Taking the necessary steps to protect your wealth is important. In the case of a divorce, you risk losing a significant amount of assets and accumulated wealth. A Prenuptial agreement will ensure that your wealth is protected and secured.
Makes A Divorce Quick: A divorce can be extremely complicated and difficult if important action to secure the process isn't taken in advance. A prenuptial agreement can help make the process smooth for you and your partner if you decide to get a divorce.
Determines Marital Property: Knowing exactly what to expect regarding marital property is extremely important. When drafting a prenuptial agreement, you and your partner have the freedom to decide the way that you with so split and share everything regarding property/properties.
Protects Your Children: Signing a prenuptial agreement is important for protecting your children's futures. When you draft and sign a prenuptial agreement, you will be able to designate specific assets to your children, in the way that you and your partner wish to. Doing so will help to ensure that your children still have rights to property in the situation that you and your spouse decided to get a divorce.
A divorce can be both emotionally and financially draining. Creating a postnuptial agreement can help save you money in the long run if you decide to separate or divorce. Our Dallas prenuptial and postnuptial agreement attorneys can help you develop a strong pre or post-nup with your spouse. Contact us today to learn more about what our lawyers can do to help secure and protect your marriage.
Suggested Reading:
Contact us online or via phone at (214) 225-6766 to schedule a free consultation with our team.